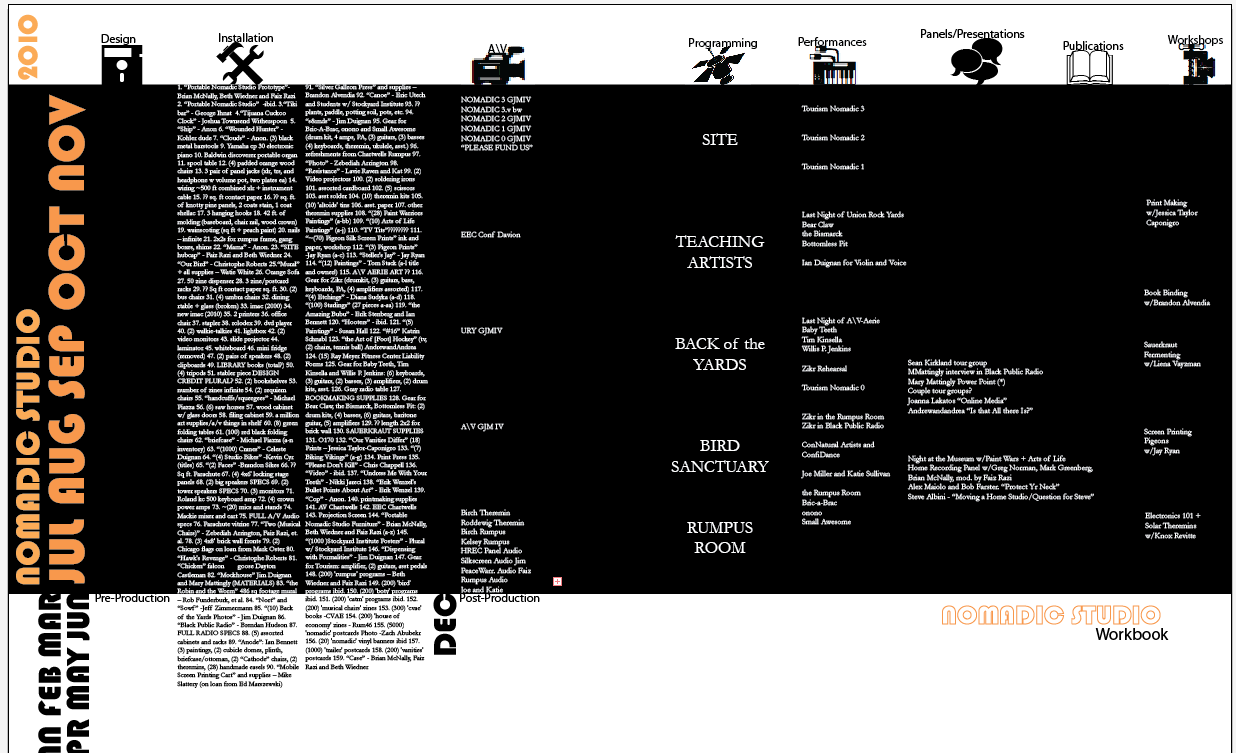 2010
Small Awesome news, Nomadic Studio closes, Check, Please videos…
Hello!
Small Awesome:
1. Special Saturday Show
2. the Record is Recorded
3. PRF Singles Club single is sold out in advance
Nomadic Studio
4. Closes its doors, Portable Nomadic Studio goes to Denmark
5. Link to the Check, Please! video
********************
1.
This Saturday, November 13th
we are proud to present a round-robin show
@ Quenchers Saloon (Fullerton and Western)
featuring:
Small Awesome
Lines and Terminals
Transmontane
all 3 bands will be taking turns playing their fine musics
over two sets with a break in between.


the music starts @ 9pm, show is $5, 21+
2.
also, Small Awesome has just completed the recording of our debut long-player, Still Awesome
we have mixing to go, but expect more news on this in the coming months.
Still Awesome was recorded by the talented Matt Engstrom in the lovely home of Jim and Vanessa Birch.
It looks like we have a label releasing a vinyl-only pressing of the record, more on that as it's set in marble.
3.
Thirdly, the PRF Singles Club subscription series has closed and will be releasing eight 6-band, vinyl-only compilations over the next two years,.
We will be comp-rades on record #6 with
Walking Shadow (NY)
Half-Mile Fox Fur (TX)
the Gary (TX)
Police Teeth (WA)
Blood-Sucking Fiends (PA)
I have seen all of these bands live, save HMFF, and let me tell you, this will be fantastic.  very excited.
every band is submitting an exclusive song.
We will have 10 extra copies of our slab when it gets pressed, but other than that, all the records are spoken for.
thanks to those who subscribed!
4. Nomadic Studio is closing its doors @ the DePaul Art Museum.  thanks to everyone who came out.  there's a few more days before we start de-install.
anyway, we have been invited to participate in an exhibition with Rum46 in Aarhus, Denmark,
so we have shipped the portable nomadic studio there. We are, in actuality, mailing our exhibit to them for their exhibit.

Beth and Brian and I have been recreating all of the art in the space in miniature and it's really coming together:


and for taking the joke too far:

also, we have built a shipping case for the Portable Nomadic Studio:
heh.
yo dawg, I heard you like museums,
so I put a museum in a museum in a museum in your museum, in a box,
so you can be in a museum while you carry a museum within a museum.
5.
Lastly, thanks to everyone for tuning into my second episode of Check, Please!
For the record, I have never in my life referred to anything as a 'hipster's dream,'
not even the time I saw a pillow case screen-printed with an ironic mustache.
there are a couple more live airings this week, but for those who want to see it online,
here is a link to the videos.
thank you for making it this far!
best,
Faiz
PRF Auktoberfest/Nomadic Studio: Bird Sanctuary Opening
Hey Friends,
short version:
***********************************
Small Awesome @ Klas' Restaurant in Cicero Saturday
PRF Auktoberfest kicks off 3 days Thursday night @ Quenchers
Faiz emcees with the Hype! live band karaoke band Friday night @ Quenchers
Small Awesome is releasing a single for a vinyl-only subscription series
Stockyard Institute is rolling into the last month of Nomadic Studio
long version:
***********************************
Small Awesome is excited to be playing @ Klas' Restaurant in Cicero this Saturday, October 15th
as part of the 3-day PRF Auktoberfest.
Show starts @ 2:00, Sm.Awes. will be playing @ 3:40
$15 for 11 bands, delicious lunch catered by Kitchen Sink, grilling in the evening, photo booth by Mr. King, and other incredibilites.
tickets are at the door, and it will most likely sell out, as Klas' room isn't huge.
Saturday October 16 @ Klas Restaurant in Cicero IL
2:00-2:30: Wereworm
2:50-3:20: Red Swan
3:40-4:10: Small Awesome
4:10-5:10: [BREAK]
5:10-5:40: Walking Shadow
6:00-6:30: Infrasonics
6:50-7:30: ZOOM
7:30-8:30: [BREAK]
8:30-9:00: Blacks
9:20-9:50: Mayor For Life
10:10-10:40: Minutes
10:55-11:40: Five-Eight
11:55-12:40: big'n
12:40-Close: DJ Panther Pants & The Ants In Pants Disco Dance Panther Dancers
***********************************
PRFAukBBQ (catchy, innit?) begins this Thursday and Friday at Quenchers.
On Friday, October 16th I will also be MC'ing for the Hype!, Live Band Karaoke Band that features,
among other incredible musicians, guitarists Brian Pennington and Peter Bardouniotis of Faiz Zeppelin.
Thursday October 14 @ Quenchers in Chicago IL
8:00-8:30: Light Coma
8:40-9:10: The Cell Phones
9:20-9:50: The Ethyl Mermen
10:00-10:30: Population
10:40-11:10: Slander Cannon
11:20-11:50: Phantom Works
12:00-Close: Lines and Terminals
Friday October 15 @ Quenchers in Chicago IL
8:00-8:30: Death Valley
8:40-9:10: Cmn ineed yr hlp
9:20-9:50: The Conformists
10:00-10:30: Red X Red M
10:40-11:10: Victory and Associates
11:30-Close: The Hype! (live band karaoke)
***********************************
Small Awesome is also participating in the PRF Singles Club, a subscription series, vinyl only compilation
with 48 bands over 8 12″ records.  each record is a limited pressing of  300 with 6 bands per record released quarterly over two years.
There are over 100 subscriptions already.  if you are interested, there is more information on the site.
We are also almost finished with our first full-length record.  details forthcoming.
***********************************
Nomadic Studio has entered the final month of our 4.5 month run.
25 or so events, workshops, performances, panels and openings later, and we are exhausted.
We're currently completing the catalog for the exhibit and have an education conference at the space on the 23rd of October.
Tons of audio, video and photos forthcoming.
a small section from after I wrote last:
Ahoy friends!
August was a whirlwind of awesome stuff, and as usual, here's a photographic rundown of the events that took place. Photos by Jim Duignan, Faiz Razi, Beth Wiedner, Joe Miller, Jacob Knabb, Samantha Dite and Keith Brown.
Bird Sanctuary opening:


the Portable Nomadic Studio is currently being filled with replicas of all the art, and we're going to be sending it to two shows in Aarhus, Denmark and Vienna, Austria after the exhibit closes. We will be, in effect, mailing them our exhibit. so funny, to me.

Diana Sudyka's awesome etchings. these were all her archival copies of long-since-gone artwork, and we were thrilled to have them. These are all 2 or 4-color copper plate etchings. Diana will use things like needles to etch the plates into fine and intricate patterns. the photos do not do the beauty of these pieces justice.

Susan Hall's phenomenal work with lace, paint and wood adorned the walls of the Rumpus Room. Grackle, the close-up piece, was completed the day before we received it, and was done on wood given to Susan by Brian McNally, the owner of the real Rumpus Room.
speaking of which, the city awarded me a CAAP grant for the rumpus to cover a bunch of my costs.

also, in the Rumpus, behind the bar, was Erik Stenberg's Hooters. jesus, look at the thing. Ian Bennett of Anode gallery made the frame out of an old loom. there's even a level built into the frame. I never want to let go of this thing. sadly, I will have to.
speaking of which, the 2nd set of Musical Chairs that Ian painted, ("cathode") was just installed at Columbia college (gallery C33) for a couple months. these don't have the random band generator, but are instead equipped with dual solar-powered theremins that we built in the class run by Knox Revitte last month. more on that after the opening there this thursday (5-8pm).

We also had the second largest install of Tom Stack's incredible work to date.
The one in the center, Fisheries was unveiled at the opening. in fact, it was hung on the wall of the gallery during the opening, as Tom drove down from Milwaukee after having finished it that afternoon. Tom gets the "Road Warrior" award for driving back and forth between milwaukee several times in one day to help make this happen. thanks to all the folks who lent us their Stack pieces for the show.

This is the work of the phenomenal Christophe Roberts. he builds these beasts out of Nike boxes, exclusively. We spotted a chimp of his a few weeks prior to the show and immediately contacted him about "Hawk's Revenge" and "Our Bird". Funny story about "Our Bird": when we were unwrapping it in the SITE office in back of the studio, two gentlemen walked in. I pointed out that Christophe made all of his work out of Nike boxes. One of the guys worked for the athletic department @ DePaul, and had an office full of nothing but Nike boxes. now Christophe is getting every Nike box that comes through the school. He's getting another 100 or so this week. so crazy.

here is Dayton Castleman's "Chicken", now paired with "the Robin and the Worm", a mural by Rob Funderburk. we helped Rob paint this ~468 sq ft mural without moving the airplane. it was extremely fun and time-consuming. I could listen to Rob talk for hours. he's a dude. more on his piece soon.

next up are 4 brand-new prints from Jay Ryan. Three incredible pigeons and one incredible Jay. well, two:


Jay used Mike Slattery's mobile screenprinting cart to not only lead a demonstration on screening stuff, but he allowed us to squeegee our own pigeons to take home. I think Jay yelled "It's a Pigeon!" maybe 70 times that night. thank you, Jay!


another screening we had that evening was the install of Katrin Schnabl's "Number 16," which is a growing trellis of morning glories. she has another trellis that she made (also out of plastic bags) that is going to be converted into a coat for a dance performance.

here are some crowd shots! the folks up top are watching Jay and co. do their thing, Dominic and Drea of the museum are catching Joe Miller's excellent band, Zikr in the rumpus room.

Zikr in the Rumpus. they were a perfect cap to the evening. we did a radio session, as well as a day-long recorded rehearsal with these fine fellows that will be posted soon.
A Trio of Duos/Nomadic Studio Opens/Faiz Zeppelin
Hey Again!
I've been writing a lot, as much has been going on, so I'll give you the short and then the long:
short:
Home Recording Panel
Theremin Building Workshop
Kids Art Show
Small Awesome @ hideout Saturday
Faiz Zep Audio and Photos
looooooooooooooooong:
*****************

Saturday July 24th–A trio of duos!:
Post Honeymoon
Coins
Small Awesome
@ the Hideout
21+ 9pm, $8
I am so excited to play with Post Honeymoon because:
a) they are dear friends
b) they are dear friends who stomped the shit out of me with their set @ the BBQ
c) they are dear friends who got the talented Karen Tisel to make the mindblowing flyer above.
come on out!
got the silkscreened Posters from Post Honeymoon last night. they're incredible all huge.
They will be for sale at the show.
************************
Two more events for July to go @ Nomadic Studio.  Jason Foumberg of New City just did a feature on the exhibit.
July schedule remainder:EVENTS ARE FREE

2350 N Kenmore (Kenmore and Fullerton, enter through Richardson Library, first doors on the left)[Thursday 7.22]

6pm – Home Recording Panel w/ Greg Norman, Mark Greenberg, and Brian McNally. Greg is an engineer at Electrical Audio and owner of Studio Greg Studios II, a recording studio in his house with fancy equipment and a few rooms for recording stuff. Brian McNally is an electrician and owner of the Rumpus Room, and Mark Greenberg, owner of Mayfair Recordings, a music-for-use company that specializes in music composition, music and sound recording, and sound design.

[Saturday 7.24]

11am – Solar Powered Theremin Workshop w/ Knox Revitte. Workshop will take place in our satellite space 0170, a science lab in DPU. Open to the first 20 people. Knox Daley Revitte is a musician, recording enthusiast, tinkerer, and life artist. Ze has a bachelor's degree in Electrical Engineering and is currently pursuing hir MS in Human-Computer Interaction at DePaul University.We have kits available, please RSVP if you plan on coming. We're in need of odds and ends like soldering irons (we have a few) and tin snips and such, but all you'll need will be there.If you plan on attending, this workshop is in 0170, our satellite space down the street. it's an old science lab. it's great. here is a pictogram on how to get there from the museum:

Also, on Saturday, we are pleased to announce an Art and Dance show of incredible students in the gallery space:
do come on out!
Nomadic Studio Sessions: We recently recorded our first song in the Studio. Joe Miller of Zikr recorded a piece for guitar voice and Katie Sullivan on violin. sounds great. we're going to be setting some dates for people to come and record in the space, more on that soon.
AUGUST!
in August, Nomadic Studio will be transforming into the Bird Sanctuary. The main gallery space will be turned into a replica of the Chicago loft space, A\V Aerie. The Opening on Aug 12th will feature Art by Rob Funderburk, Susan Hall, Nikki Jarecki, Christophe Roberts, Jay Ryan,Tom Stack, Erik Stenberg and Diana Sudyka. we're thrilled to have their beautiful work.
On Saturday August 21st, Baby Teeth, Tim Kinsella and Willis P Jenkins will perform in A\V Aerie @ the museum. They were the bands that played the night A\V Aerie closed down.
Full program for August forthcoming. Events are usually on Thursdays and Saturdays.
**********************
Our Friends, Mr. King, Jim Birch and Matt Engstrom documented the Faiz Zeppelin show on monday. some teasers of their work below:
AUDIO
"SIBLY"
"Achilles/Comm Break"
PHOTO
and some lovely photos by Mr King
video coming soon.
thanks again,
Faiz
NOMADIC STUDIO opens July 8th
Hello, friends.
It pleases me to announce the opening of the Stockyard Institute's exhibit, Nomadic Studio at the DePaul University Art Museum this Thursday, July 8th.
Nomadic Studio is a four and a half month exhibit about the artist and non-traditional studio spaces. For the month of July, we are focusing on the musician and the home studio. We have built a replica of the Rumpus Room in the center of the gallery. As the event progresses, the space will be transformed every month to reflect a new theme, as well as to feature different artists and spaces.
Featured Artists: Lavie Raven, Ian Bennett, Kevin Cyr, Brian McNally, Watie White, Zebediah Arrington, Dayton Castleman, Jeff Zimmerman, Mike Slattery and Brandon Alvendia

EVENTS ARE FREE
2350 N Kenmore
(Kenmore and Fullerton, enter through Richardson Library, first doors on the left)
[Th 7.8]
5pm – House Warming
Exhibit doors open to the public.
6pm -Steve Albini – Moving a Home Studio Owner and Recording Engineer Steve designed Electrical Audio and moved his home studio, where he recorded for over 10 years. A Montana native and graduate of Northwestern University with a degree in journalism, Steve has made over 1000 records by over 1000 bands.
7pm – Live Music w/ Bric-a-Brac, onono, Small Awesome
Music performances will take place in the Rumpus Room, a fully-
functioning 'home' recording studio. All three bands consist of musicians that have rehearsed or recorded in the Rumpus Room.
[Sa 7.10]
12-5pm – Rumpus Room open for recording
[Th 7.15]
6pm – Protect Your Neck w/ Alex Maiolo and Bob Farster Alex Maiolo has worked with The Future of Music Coalition for almost nine years, primarily focusing on the health insurance crisis as it relates to the working musician. He is a partner at an insurance agency and a musician. Bob Farster has worked as a credit expert and loan officer helping those without the strongest financial backgrounds to purchase homes and business spaces for themselves.
[Sa 7.17]
3pm – Faiz Zeppelin open rehearsal session
Zeppelin concept band transparent rehearsal
[Th 7.22]
6pm – Home Recording Panel w/ Greg Norman, Mark Greenberg, and Brian McNally. Greg is an engineer at Electrical Audio and owner of Studio Greg Studios II, a recording studio in his house with fancy equipment and a few rooms for recording stuff. Brian McNally is an electrician and owner of the Rumpus Room, and Mark Greenberg, owner of Mayfair Recordings, a music-for-use company that specializes in music composition, music and sound recording, and sound design.
[Sa 7.24]
11am – Solar Powered Theremin Workshop w/ Knox Rivette. Workshop will take place in our satellite space 0170, a science lab in DPU. Open to the first 20 people. Knox Daley Revitte is a musician, recording enthusiast, tinkerer, and life artist. Ze has a bachelor's degree in Electrical Engineering and is currently pursuing hir MS in Human-Computer Interaction at DePaul University.
THIRTY-THREE:
Hi Friends,
hope this finds you well.  Turned 33 on Saturday, and am thoroughly excited about the coming year.
The short:
1. I won the Check, Please! thing. you folks are the best.
2. My band, Small Awesome, plays on Tax Day at Quenchers
3. I'm co-curating the DePaul Museum for five months for an exhibit called Nomadic Studio
4. I had my first modeling shoot for banners to be hung up around the city,
5. Musical Chairs came home after 285 days of installs this year, and submissions for music are open again.
6. Faiz Zeppelin is playing again with a full band this summer and beyond, and are looking to shoot a documentary.
The long:
1. I got 2nd place in the Check, Please! All-Stars contest.


Obama got 9th.
http://www.wttw.com/allstars
I'll be returning to the show this year.  So crazy.
Seriously, thank you so much for all your votes and support!
salut!
btw, I see my friend Kelly won a gift certificate to Sunda in their raffle.
The coconut milk fried chicken there is unbelievable.  nice.
2. My band, Small Awesome plays on Tax Day at Quencher's
http://www.myspace.com/smallawesome
Small Awesome are an electrified troubadour rock duo.
Faiz plays guitar, ukulele and sings, Jim MacGregor plays bass and guitar.
we are excited to be playing our first show with some excellent bands:
************
Thursday, April 15th
@ Quencher's (Fullerton and Western)
9pm, 21+, $5
w/Born on the Floor, Whales and the Infrasonics
Small Awesome plays first.
************
3. I am Co-Curating the DePaul Museum this year
http://museums.depaul.edu/artwebsite/exhibits/upcomingdefault.asp
Stockyard Institute, the Art-Education Non-Profit I work for has been invited
to curate the DePaul Museum from July 8th-Nov 20th
The exhibit, Nomadic Studio is a reflection of all the incidental and provisional
spaces where people actually make art.
From the basement recording studio to the bathroom film lab
and everything in between.
there's a thread with tons of info about the exhibit here:
http://www.electrical.com/phpBB3/viewtopic.php?f=4&t=48039
We'll have four and-a-half months of music, performances, panels, screenings,
workshops, fashion, food, and other cool stuff.
Details as we work them out,
but I promise you, we have something grand and ridiculous and beautiful planned.
It is in partnership with Studio Chicago, who are doing 3 major events this year,
the School of the Art Institute, the Museum of Contemporary Art and Us.
Crazy.
Beth Wiedner and I were asked to guest contribute for their site:
http://studiochicago.blogspot.com/2010/04/space-informs-art.html
honestly, we've been working our tails off since November to make this happen.
The artists, performers, installs and collaborators on this project are of the finest I've seen.
Full schedule forthcoming.
4. I had my first Modeling shoot last Friday
haha.
had my first modeling shoot on Friday.
It's for some magazine ads and life-size banners for the exhibit.
here's one of the contact sheets:


Suit is my grandfather's. Shirt is a gift from a friend. bought the tie and the shoes.
Sunglasses are prescription from Baba Opticals in India.
'Briefcase' built by Brian McNally, Trailer by Shasta.
5. Musical Chairs come home.
I just uninstalled the first set of Chairs from the Columbia College Library,
where they've been for the past few months:


this is basically the first time Zeb's "Two" set has been home since we made them.
I calculated an approximate tally for the player:
Hyde Park Art center-6 hours
Version 09 – 10 days
Multicultural Arts high School 3 hours
Union Rock Yards 3 days
Cultural Center (4 months)/Columbia College (the rest) 271 days
for a total of 6825 hours of continuous play.
that means 409,500 permutations of the 2 sound sources (2560 unique poss. combinations.)
thanks so much, all of you who contributed.
that said, now that the chairs are back, I'm going to be adding more music to the shuffle.
We have a second set that is painted and ready to build out (Ian Bennett's "Cathode" set)
and will be at the DePual museum. The install will actually be two sets of chairs, the old and the new.
There will also be a competition to design the next set.
I would love more one minute pieces of instrumental music from you talented people.
let me know if you'd like to participate, and I'll get you the info you'd need.
All participants to date will be credited in Musical Chairs Activity Book #2 and related ephemera.
6. It pleases me to introduce Faiz Zeppelin:
Patrick Ferguson (Athens, GA) – Drums
Alex Maiolo (Chapel Hill, NC)- Bass, Keys
Brian Pennington (Chicago, IL)- Guitar
Faiz Razi (Chicago, IL)- Vocals

We have an upcoming show:
Monday July 19th
@ Schuba's Chicago, IL
18+, $8
we'll be rehearsing the 18th of July.
We are actually looking for someone to do some filming for both the rehearsal and the show for part of a documentary.
If you have suggestions, feel free to contact me.
thanks!
me, me, me, me.
How are you?
Faiz