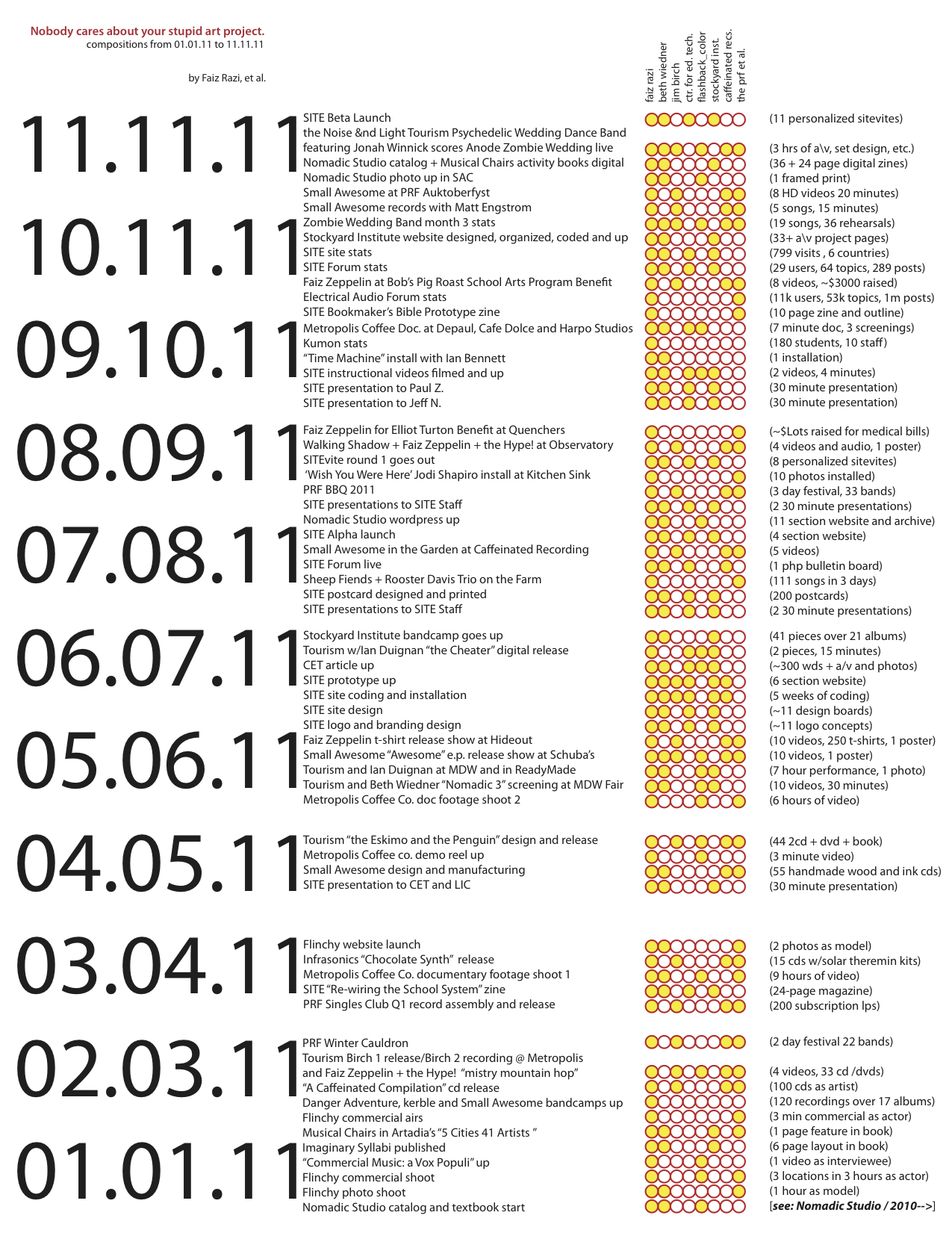 Zeptember, Auktober, etc.
Hi Friends,
Hope this finds you well.
the short:
1. Faiz Zeppelin is playing a BBQ Benefit for a School Arts Program this Saturday the 24th in Lincoln Square
2. Small Awesome is playing the 2nd PRF Auktoberfyst next Friday @ Klas' in Cicero
3. I produced my first documentary with Flashback_Color on the Metropolis Coffee Co.
4. Musical Chairs made it into Artadia's book of vital art and vital artists
1.
****************************

the Chicago Chapter of Faiz Zeppelin will be playing outside this Saturday
at Bob Farster + Co.'s Nth Annual BBQ Benefit.
There will be much food, much beverage, and it's kid friendly.
The fantastic music line-up is as follows:
3:00 the Columbines
4:00 the Blue Line Riders
6:00 Faiz Zeppelin
8:00 Give Back
In the Backyard of 4814 N Hamilton Ave
BBQ Starts @ 2pm and goes until 10 pm
Suggested Donation of $20
all proceeds are going to benefit the Arts Program at McPherson School,
the National MS Society and the Merit School of Music
There's also raffles and auctions happening throughout, with some wonderful prizes.
Further Details can be found here.
2.
****************************


Small Awesome is returning to Klas' Restaurant in Cicero for the PRF Auktoberfyst
a 3-day music festival, and the 8th in a series of PRF BBQs.
We are playing Friday, September 30th, the second night of Auktoberfyst,
with arguably the best line-up we've been a part of:
Friday, September 30th, 2011 @
Klas Restaurant
in Cicero, IL
Klas, the largest Czech restaurant in the United States,
is located at 5734 W. Cermak Road, in lovely Cicero, IL.
___________________________________________________
The Thursday Line-up @ Quenchers and the Saturday Line-up at Klas are as follows:
Thursday, September 29th, 2011 @

Quenchers Saloon

in Chicago, IL
Saturday, October 1st, 2011 @
Klas Restaurant
in Cicero, IL
Tickets for Thursday @ Quenchers will be $5 at the door.
Tickets for Friday and Saturday at Klas are $20 for both days, and can be purchased at the door.
Saturday's event will be catered by the fine folks at Klas.
Jam packed!  In the weeks following, Small Awesome will be returning to Caffeinated Recordings to begin
our work on the second Small Awesome full length, while we sort out the details on the release of the first.
3.
*****************************
Just got the final cut of the Metropolis Coffee Co. info doc I produced with the fantastic film making duo, Flashback_Color.
Metropolis is a fantastic local business that you should cherish and support, but hopefully you already know that.
This is the first in a series of Info-Docs I'm doing with the brothers Miller (George Joseph IV and Reid Garrison) of Flashback_Color,
featuring businesses, artists and cultural producers we admire.  All three of us had a hand in scoring portions of the film, also.
So far, the doc has been screened at DePaul University, Dolce Casa Cafe and Harpo Studios (yes, that Harpo), and is available to watch online:


click to watch!  If you have any ideas of other nice places we could show this, please, do let us know.
4.
********************************


Musical Chairs, the random band generator I designed and built with my collaborators and co-conspirators at Stockyard Institute,
the electric wizard Brian McNally, and a host of international musicians was featured in the new Artadia Book 5 Cities, 41 Artists.
Very exciting news, as Artadia celebrates art and artists they find vital.
Cheers to all involved in this project.  Couldn't have done it without you.
********************************
OK!
thanks for getting this far.  I still have a bunch of news bits and exciting events up my sleeve, but that'll
have to wait for my winter missive.  I enjoy hearing from all of you, so don't be strangers, you hear?
best,
Faiz
SA | FZ | SI | DA | K | CP | T
***********************************
A SUMMERY SUMMARY
Ahoy Friends,
It's been a while, and I thought I'd send another one of my confounding, yet comprehensive, missives.
This one is dense, so once again, for your convenience-
the short:
1. Faiz Zeppelin plays a benefit show this Saturday at Quenchers for an electrocuted (yet revived!) comrade's medical bills.
2. Tourism offers a sneak peak at our record done with 11 year-old violinist, Ian Duignan, makes it into ReadyMade, screens a documentary at Harpo.
3. Walking Shadow of NYC invites me into the fold for a special psychedelic show at the Observatory, and there's gorgeous video, to boot.
4. Small Awesome makes our Awesome e.p. available for digital consumption, and prepares new music for an intimate backyard show at Caffeinated Recordings.
5. the Sheep Fiends and Rooster Davis records 111 songs (no joke) at the Ihnat Farm in Pennsylvania over Memorial Day weekend. E-I-E-I-O.
6. Stockyard Institute develops a website for educators, and is intentionally cryptic about it.
7. Faiz asks you how you are doing, as he is doing great, has nothing to complain about, and hopes the same goes for you.
the long:
1.  Faiz Zeppelin @ Quenchers, Saturday, July 16th
– Our friend, Elliot Turton was electrocuted on stage and brought back to life
by nurses in the audience, and all he got was this lousy benefit show:


***********************
Faiz Zeppelin
the Trophy Wives (featuring Elliot's first show back!)
Ifihadahifi
Begin By Gathering Supplies
Century Rocket Building
and several other fine bands
@ Quenchers (Fullerton and Western)
Saturday, July 16th, @ 6pm
tickets are $10 to help defray his crazy defibrillator costs
and other assorted medical bills,
as we're happy to still have him on this side of the void.
there's a silent auction as well as a raffle with some insanely cool prizes
(massage therapy, music packages, base-ball tickets, jewelry, surprises).
Faiz Zep will be a completely Chicago-based iteration of the band for this show,
and we are pleased to have Erik Rosengren of the Hype! and (-o-) filling in on bass duties
as well as the shifting of our very own hotshot guitarist, Brian Pennington to the drums.
Also! Faiz Zeppelin t-shirts will be available at the show for the standard $15,
but we will be donating $5 of every shirt sold to the cause.
***********************
2. Tourism presents: "the Cheater", and other neat things.

Tourism participated in Version 11 this past April at the MDW Fair in the Geolofts in Bridgeport.
We improvised and recorded an album using no instruments, but instead ran our vocals through our myriad pedals.
We we lucky to have violin accompaniment by Ian Duignan, the 11 year-old wunderkind.
a two track preview of Tourism and Ian's forthcoming record, "the Cheater" can be heard here.
For you literate types, I was invited to write an article about the event and our process
on the Center for Educational Technology's website. The article can be found here.
Also, Tourism and Ian Duignan made the society pages of ReadyMade for our show:


pretty rad.
Fun fact: the record is called "the Cheater", because there were rolling blackouts in our section
of the GeoLofts, so we were forced to improvise, and ran literally everything off of one outlet.
Nobody was electrocuted.
3. Walking Shadow, live from the Observatory


Jodi Shapiro, mastermind behind the mysterious Walking Shadow
(and frequent participant in both Rhys Chatham and Glenn Branca's respective orchestras)
invited me to play in her incredible ensemble for a show at the Observatory for the Summer PRF BBQ
with fellow Chicagoans Liz Bustamante (of Noise and Light, Faiz Zeppelin and WBEZ)
and Stephen Sowley (of Fake Limbs and Electrical Audio, but mostly of Stephen Sowley)
First of all, we got to rehearse in Studio B of Electrical Audio (Steve Albini's studio), which was incredible
Second of all, our friends, Jim Birch, Thomas Banks, Chris Goosman and Chris Hall captured some beautiful footage of the show, which can be seen here.
Third of all, we had an onstage/offstage collaboration with SNWV, a.k.a., Maurice Rickard of Pittsburgh, PA
Fourth of all, our biggest fan was a six year-old in safety headphones who was front and center for the entire thing
Also, Jodi happens to be an incredible photographer, and she has her work up for a limited time
at the Kitchen Sink Cafe in Edgewater, where you can admire 12 photos from her "Wish You Were Here" series,
as well as throw down on some fantastic food courtesy of Jeff Fox and his staff.  seriously, his food is so good.
I bring out-of-town guests there regularly.  Go eat there.
4. Small Awesome's Awesome e.p. goes digital and an intimate show in August


This is a crude, digital facsimile of the Awesome e.p. by Small Awesome.
The limited-run, hand-made, hand-spray-painted CDs (thank you, Beth Wiedner)
with hand-cut, hand-silk-screened wood covers (thank you, Jay Ryan) and hand-cut
wood-grain tray cards are available from the band at our shows.
Thank you to those that came out for our e.p. release show in April.
We had a blast, we got to open for one of our heroes, Mike Watt
and you lovely people sold the place out before we played our first note.  cheers.
We are currently sorting our stuff for our Still e.p.'s release in the near future.
This will also be a limited-run, hand-built affair.  After that, the vinyl release of the Still Awesome LP looms near.
More on that as the details finalize, but we have found a home on a lovely label in Spain.
Until then, we are working on a new batch of songs in preparation for a special show
at our home away from home, Caffeinated Recordings:

******************
Small Awesome
Jimmy Two Hands
and
Bone and Bell
will be performing intimate sets in the lovely yard behind Caffeinated
and then special guest stars, Nonagon will close out the night full-tilt
in the studio proper.
Saturday, August 6th @ Caffeinated Recordings
please contact me if you would like the address
Free, BYOB, 5pm
******************
5. the Sheep Fiends and Rooster Davis recorded a ridiculous number of songs on a Farm: E-I-E-I-O


On Memorial Day Weekend, the Sheep Fiends (Brian, Brian, Mike, Faiz and Sid) packed up a ridiculous amount of equipment,
drove out to the Ihnat Farm in Eldersville, PA, and proceeded to record 111 songs in three days.  For those not familiar,
the Sheep Fiends are the longest running band no-one has heard of.  15 or some-odd years, 100 some-odd members,
and the music is…well, it's some-odd, too.
I mean, we ate, and we slept, and we made campfires, and we went to the farm supply store, and we made s'mores,
but we also wrote and recorded 111 songs.  the Bulk of those were Sheep Fiends songs,
a handful were Rooster Davis Trio songs (that's Brian, Mike and Faiz)
and then there were odds and ends and other things that pushed us into the triple digits.
I'm still a little stumped.
Now, Brian and Mike have the privilege (?) of sorting through them, editing and mixing and turning it into a few records.
Got the first batch the other day, and I'm utterly pleased with how well we played, and how good it sounds.
Not bad for a few city mice out in the country.  More on that when we get the final versions, but jeepers.  111!
It was also Brian's birthday.  And the other Brian took the picture of Brian, Mike and I.
I think Sid was asleep at the time of the photo.
And because I found it a touch beautiful, here is a shrunken-down-to-illegibility view
of Mike's meticulous spreadsheet of the work we did:


And that's not even half of it.  But look how nice he made it look! so organized.  salut.
6. Stockyard Institute develops a website for educators, and is intentionally cryptic about it
Seriously, we'll talk about it later, okay.  Lotta fifteen hour days have gone into this one.
7. Faiz asks you how you are doing, as he is doing great, has nothing to complain about, and hopes the same goes for you.
Hey!  How are you?
best,
Faiz
SA | FZ | SI | DA | K | CP | T
Hey Friends,
happy fool's day. hope it finds you at the giving end of pranks.
April is going to be an insanely busy and fun month, and I thought I'd give y'all an update.
short:
1. Small Awesome e.p. release @ Schuba's April 15th
w/Mike Watt and the Missingmen
2. Faiz Zeppelin t-shirt release show @ the Hideout April 30th
w/special guests the Columbines
3. Stockyard Institute Nomadic Audio release on bandcamp
4. Flinchy t-shirts released.
I did some modeling and commercial work for their opening
5. Tourism 2xCD+DVD+Book release @ the Geolofts April 23rd
for Version fest
long:
1.
SA
Last night, Small Awesome (Jim MacGregor and I) finished our full length, Still Awesome after a year and change of work
with the assistance and endless patience of engineer Matt Engstrom at Caffeinated Recordings, the studio in the lovely home of
Jim Birch and Vanessa Smetkowski.
here is a stream of the first song on our forthcoming Awesome e.p., "I don't think any of them do"
from the sold out A Caffeinated Compilation.
We are pleased to announce the release show for our Awesome e.p. on Tax Day.
it is our one year anniversary as a live band, and this show should be pretty grand.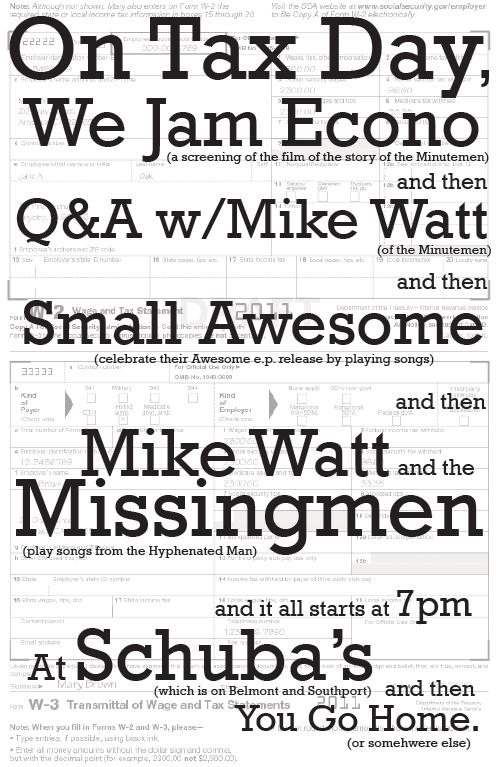 *****************
Friday April 15th
Mike Watt and the Missingmen
with Small Awesome
10pm, 21+ @ Schuba's
*****************
as an added bonus, Schuba's will be screening the exceptional documentary
We Jam Econo: the Story of the Minutemen before the show @ 7pm
with a Q&A with Mike Watt following.
for anyone interested in attending both the show and the screening,
if you order the show ticket online, the price for the screening/Q&A is only $5.
you can pay for this at the door with your will-call for the show.
thanks!
2.
FZ
It Pleases me to announce:

******************
Faiz Zeppelin
with very special guests,
the Columbines
Saturday April 30th
@ the Hideout
9:00 pm, 21+ $8
Advanced tickets available here.
Faiz Zeppelin will be joined by the lovely Liz Bustamante on keys.
the Columbines will be joined by the lovely Hannah Barlow on vocals.
******************
we will have our vishnu/swan song t-shirts available at this show.
they look fantastic, and were screen-printed by Willy B of the Independents
They are nondescript, yet completely tough.
3.
SI


Stockyard Institute's audio from Nomadic Studio is slowly making its way to our bandcamp page
I've been sorting over 30 hours of audio programming from our 4.5 month exhibit and getting content up
Nomadic Audio vol. 1: Rumpus Room has the most, but there's tons of stuff to listen to.
music, workshops, presentations, performances. tons.
also, Jim Duignan was interviewed by Sixty Inches from Center about SI and the work we do.
we will also be launching our curriculum project, SITE later this year. it should be excellent.
more on this as events warrant.
4.
CP
Two for Flinchy!
Flinchy, the t-shirt company of Jay Ryan (the Bird Machine), Diana Sudyka (Tiny Aviary),
Tom Stack (Stackmatic) and Jason Harvey (Jason Harvey)
launched on Valentine's day and sell incredibly great t-shirts.
I was one of the models for the release, and am also in the commercial on their site.


I'm in some pretty great company, and Flinchy are a super company.
Buy their shirts. do it. there are model bios in the "news" section, too.
A side note–of the people featured on the Flinchy home page, 8 of the folks were involved with Nomadic Studio:
Flinchy/Bird Sanctuary artists
Jay Ryan – silkscreen workshop
Tom Stack
Diana Sudyka
Co-Curators with Stockyard for NS
Faiz Razi
Beth Wiedner
"the Robin and the Worm" mural
Rob Funderburk
Gretchen Kalwinski
"Questions for Steve"
Steve Albini
5.
T
Today April 1st, Tourism releases our concentric comedy concept album, the Eskimo and the Penguin:


it includes a live dvd, a music cd and a comedy record meant to be played simultaneously or separately.
it is packaged as a bootleg chinese dvd with a "how to tell jokes" instructional book, and is a limited run of 44.
These will be made to order. email me if you'd like to reserve a copy for purchase.
all proceeds past our initial materials costs will be donated to something more important.
If you would like a sneak peak of how these concentric records work,
start this track:
http://stockyardinstitute.bandcamp.com/ … t-the-room
and start this video 5 seconds after:
http://www.youtube.com/watch?v=7wCgeMjauks
official release will be our April 23rd show @ the GeoLofts in Bridgeport.
If you'd like to be involved as a vocalist for this performance, get a hold of me.
now, back to pranks—-
Faiz
Cauldrons, Caffeine and Compact Discs
******************************
the short list:
**************************
1) Tourism releases our first full-length, Birch 1, @ Cauldron Series
2) Small Awesome is featured on a compilation, also being released this weekend
3) A heads up for Faiz Zeppelin @ the Hideout 4/30/11
the long story:
**************************
T


1) Tourism is proud to present our first full-length+ release, Birch 1 at Cauldron Series this Saturday.
Birch 1 is a collaboration between Tourism (George Joseph Miller IV and Faiz Razi) and Jim Birch of Caffeinated Recordings.
There will be 30 handmade copies of Birch 1 available at the show.
it is a data DVD with ~72 minutes of music and ~22 minutes of Nomadic 3, a tour video filmed by Beth Wiedner.
it is the first of a dozen free releases Caff. Recs is releasing this year.
Tourism will be performing/recording Birch 2 as part of the cauldron for future release.
After the show, we will make the audio available for free online. details forthcoming.
**************************
SA


3) Small Awesome is happy to participate in the release of A Caffeinated Compilation,
a free, 13-song comp from the fine folks at Caffeinated Recordings featuring all the bands that
recorded in their studio this year. Much thanks to Jim Birch, Vanessa Smetkowski and Matt Engstrom of Caff. Recs.
This will be limited to 100 hand-stamped copies and features Small Awesome's "I Don't Think Any of Them Do"
from the forthcoming Awesome e.p. (release in April). here is Jim Ford's excellent cover art:

**************************
FZ


3) Faiz Zeppelin will be playing at the Hideout on Saturday April 30th
with our wonderful guests, the Columbines.
Flyer and advanced ticket info forthcoming.
**************************
Other Stuff!
I've got a handful of releases coming in the next few months.
A sneak peek!:
Nomadic Studio index/catalog is going through its second draft. it's a 72 page, semi-full-color book.
Sheep Fiends will be releasing Numerolostrology. this is my fourth or fifth record with the Sheep Fiends.
Rooster Davis will be releasing a record sometime this year. RD is Brian McNally, Mike Skroch and Faiz Razi
warmest regards,
Faiz
****************************************
Hey Friends,
Hope this finds you well.
2010 was incredible and productive. 2011 is looking the same.
built a bunch of websites to keep track of all the progress:
SA | FZ | SI | DA | K | CP | T
with the links.
A friendly update on each project and I bid you a Happy new year.
SA: Small Awesome


1. Small Awesome website is up. photos, flyers, video, etc.
2. Small Awesome has just completed the recording of our debut long-player, Still Awesome.
Still Awesome was recorded by the talented Matt Engstrom
in the lovely home of Jim Birch and Vanessa Smetkowski
between 12/12/09 and 12/12/10
Release info as events warrant.
3. We have plans to record again before march. the song "Singing Skull"
will be released as part of the PRF singles club in 2010.
FZ: Faiz Zeppelin


1. Faiz Zeppelin website is up. Photos and videos up top.
Spiral down the rabbit hole below.
2. Plans to play Chicago in april/may. Until then,
I will be hosting the Hype! (w/Brian and Peter of FZep)
at PRF Cauldron Series Feb 5th
details to follow.
SI: Stockyard Institute


1. Stockyard Institute has closed Nomadic Studio.
a 72-page Catalog and Textbook of the exhibit to follow.
2. There is a tour video of the space on you tube.
search "nomadic tourism" if you are interested
3. We are currently planning a launch of SITE,
a multimedia curriculum project for teachers by teachers in 2011.
4. Edited a 10-minute piece on the Peace Warriors initiative @ Lawndale College Prep.
153 days without a violent incident! audio on the Lessons in Courage site
DA: Danger Adventure


1. Danger Adventure bandcamp is up. it is full of high-quality free downloads
of all our recordings from 2001-2006. 5 studio. 9 live.
2. We will be condensing the recordings into a free, digital double-album,
entitled Quadruple Phoenix, in Feb. more soon.
K: kerble


1. kerble bandcamp is up. mostly solo recordings. same as above,
but less populated with music so far.
2. On the Musical Chairs front, plans for 4 new sets this year
for a grand total of seven. some wild designs ahead.
CP: Check, Please?


1. Check, Please! video is up. this is both episodes broken up
into six sections by restaurant. I still beat the President.
2. On the video front, I was filmed for a commercial for Flinchy t-shirts
and was photographed as a model for their site. ha! More on this soon.
T: Tourism


1. Tourism is a band consisting of George Joseph Miller IV and Faiz Razi.
Tourism has played 3 unannounced shows that went great.
2. Tourism's third show, Nomadic 3 can be seen, in-part on you tube.
"nomadic tourism" is 10 videos, ~20 minutes
3. Tourism is announcing its fourth show at a chili cook-off in a coffee grinding warehouse
for PRF Cauldron Series Feb 5th. incredible flyer soon.
4. Tourism will be releasing an e.p. at the show
entitled Birch 1 as a collaboration
between Jim Birch of Caffeinated Recordings/the Infrasonics and Tourism.
whew?
and how have you been?!
Faiz