Zombie Wedding
Category
Tags
Tags: *anode, brian ncnally, bw/, caffeinated, flashback_, george joseph miller iv, ian bennett, jim birch, liz bustamante, renee van de kolk, tourism, vansassa

Excerpt
the Noise &nd Light Tourism Psychedelic Wedding Dance Band featuring Jonah Winnick played a zombie wedding Halloween weekend. We scored the wedding live. People danced and laughed and cried and sang. Not bad for a first show. Band photo by …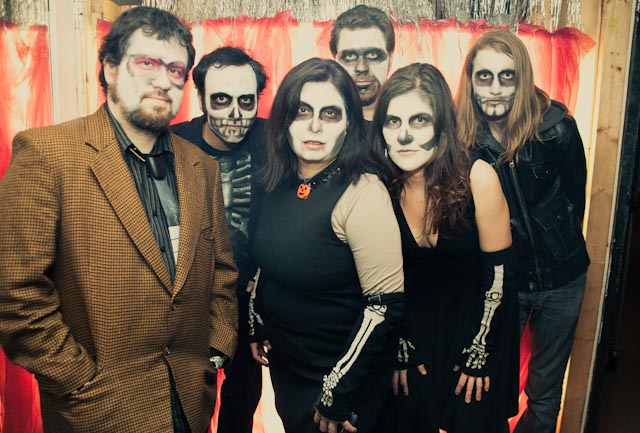 the Noise &nd Light Tourism Psychedelic Wedding Dance Band featuring Jonah Winnick played a zombie wedding Halloween weekend.
We scored the wedding live. People danced and laughed and cried and sang. Not bad for a first show. Band photo by Evangeline Lane.
We were featured in Rock N' Roll Bride in November of 2011

–Frankenband–
noise&light is the brainchild of Liz Bustamante, who has been recording under the moniker for years. Liz is a superstar. I get to play music with
her in Faiz Zeppelin, Walking Shadow and the Hype!, and was thrilled to be invited to add stunt guitar and vocals to her forthcoming record.
Liz was making the record at Caffeinated Recordings (my favourite studio), which doubles as a home for the Common-Law Power-Couple of
Jim Birch and Vanessa Smetkowski.  Jim 'Jam' Birch can do everything, of course, but this marked the first time we were playing music together
after years of collaboration.  Vanessa played cello on the Small Awesome record, and also turned out to be our secret weapon as a fearless musician,
a quick study and a hypnotic bassist.  All this, with Liz' kinetic drumming resulted in the ad-hoc and loosely-named the Noise &nd Light Dance Band.
–the Bride and Ghoul–
I was invited to provide wedding music for my dear friends Ian Bennett and Renee Van De Kolk of Anode Design.  It was going to be a zombie wedding.
For most couples, this would be ridiculous, but Ian is technically a zombie.   Ian, at one point in time, was an electrician.  He was electrocuted on the job,
died, was revived, and came back to life as an artist.  In fact, he came back to life as the most prolific artist I have ever met. Unfortunately, when someone
is electrocuted, the neurons in the brain often get reset. Ian came back to life and couldn't remember Renee.  They fell back in Love.  'til death, right?


Ian and Renee Photos by Evangeline Lane
I met Ian and Renee through Beth Wiedner, my partner-in-crime. The four of us worked together on Musical Chairs – "cathode" and throughout  Nomadic Studio.
I was already well aware what the two of them could do.  The Undead Steampunk theme of the wedding was carried out to the tiniest details.  Renee, the lovely
vampire bride and her undead ghostbuster groom, Ian, hand-built their wedding clothes, including her corseted gown and scepter and his proton-pack saxophone
and top hat.  They spent hundreds of hours organizing and building the stages for the reception including a stenciled balcony, the altar they were married above,
and the chandelier they were married below.  The the Noise &nd Light Dance Band rose from the living to score this psychedelic wedding live.
–a Bigger Beast–
To push the flexibility of the band, we needed some elements of surprise. We called upon gifted
genii George Joseph Miller IV and Jonah Winnick (File photos 02/11 and 06/09) to round out the sound.
George Joseph Miller IV is my better half in Tourism, a mind-frying guitarist, and one half of the A\V production duo,
flashback_color, with his other half, Reid Garrison Miller. The Miller Brothers are also 33-50% of Zikr depending on the day.
Jonah Winnick has perfected both Smooth and Sensual music with Begin By Gathering Supplies and invented their exact opposites in Beastqueef.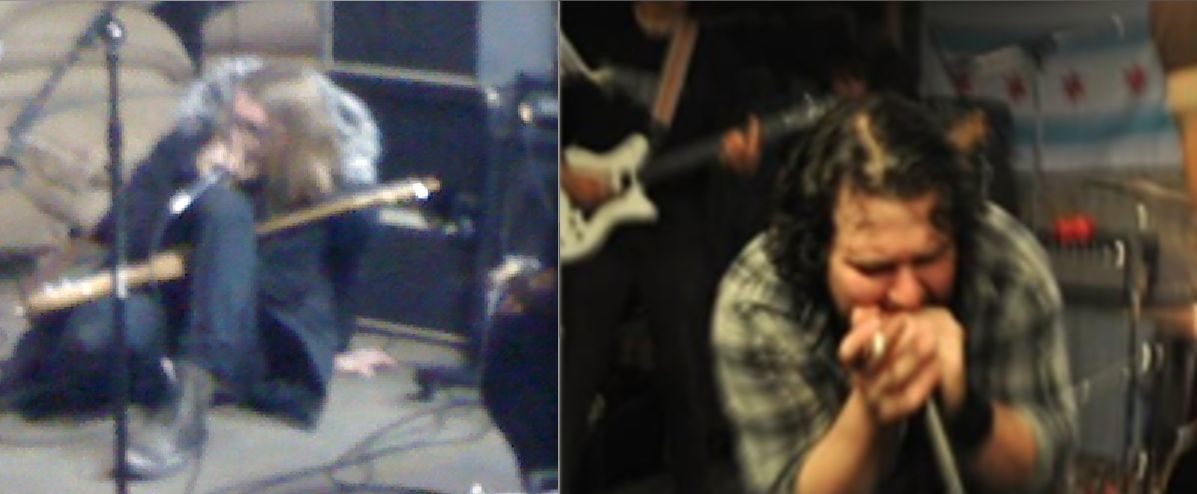 The newly christened the Noise &nd Light Tourism Psychedelic Wedding Dance Band featuring Jonah Winnick rehearsed at Caffeinated Recording
approximately three hours a day, three days a week for three months, learning arrangements spanning seven decades of music and then some.
However, the first time all six of us played together as a group was the wedding day.

–the Bones Brigade–



Faiz Razi (guitar, vox), Beth Wiedner (production), Reid Garrison Miller (video), George Joseph Miller IV (guitar, vox), Liz Bustamante (drums, keys, photos),
Jim Birch (keys, theremin, guitar, drums), Vanessa Smetkowski (cello, bass), Jonah Winnick (drums, bass, beats), and Marie Winnick (enforcer), left to right.
>[not pictured: 52 child-sized novelty skulls, 1 adult-sized novelty skull, 6 spray-painted ElectroMan surge-protector skeletons and 4 trucks full of A\V equipment]<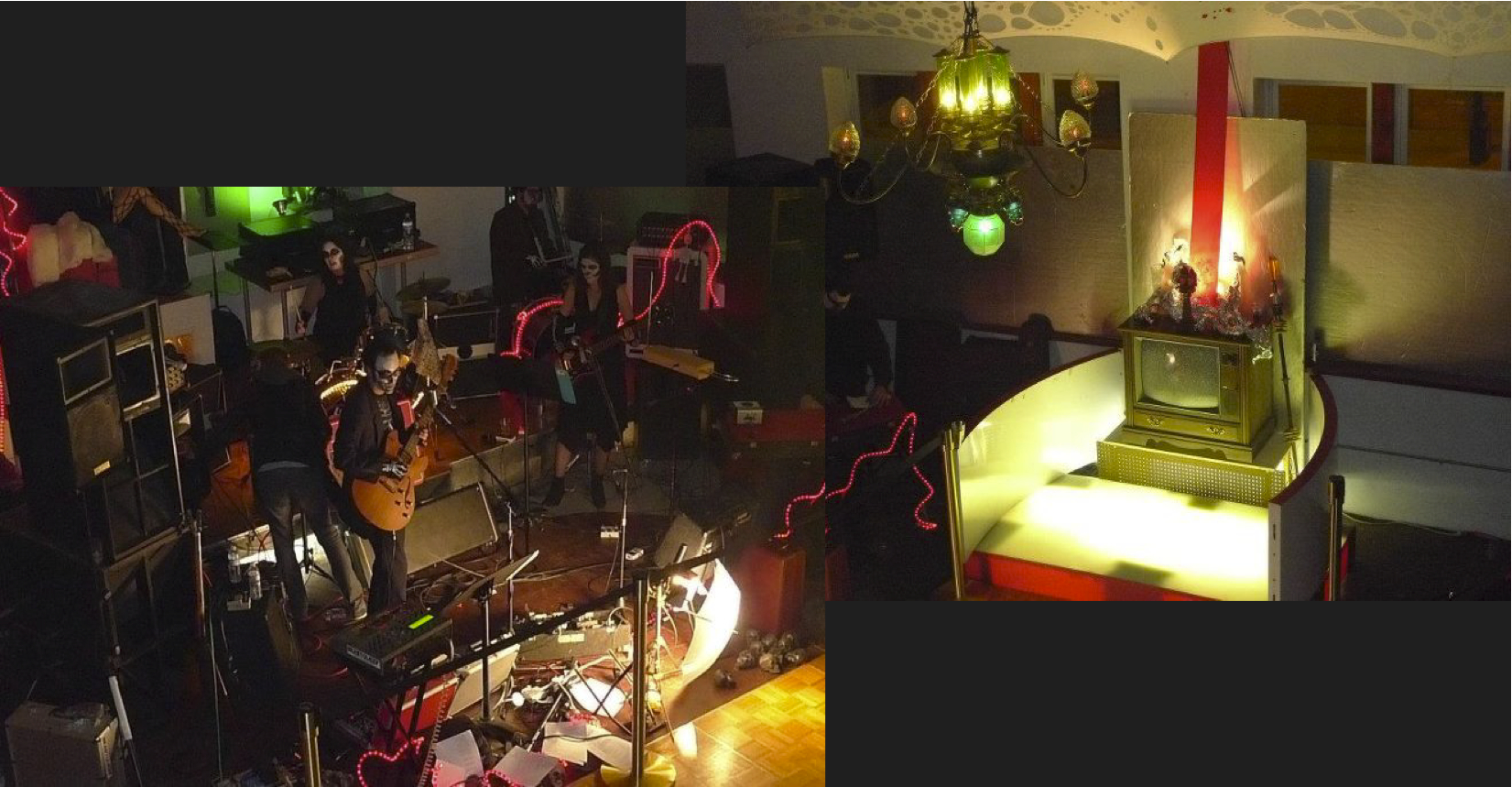 –'til death–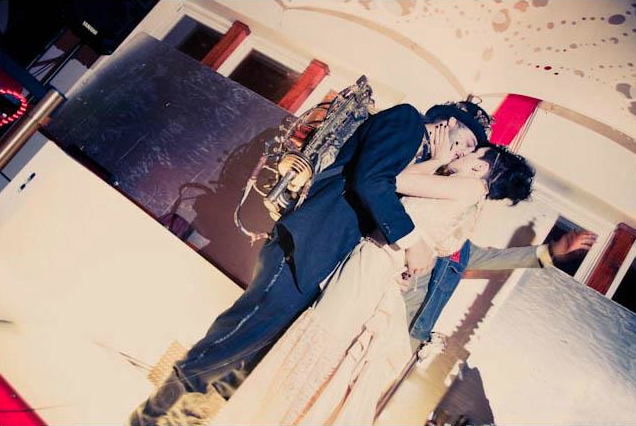 the Ceremony:
groom's march: Link Wray – "Rumble"
bride's march: Johann Pachelbel – "Canon in D"
you may kiss the bride: Richard Wagner – "Treulich Geführt" (a capella w/all)
mother/son dance: David Bowie – "Oh! You Pretty Things"
father/daughter dance: Bob Thiele and George David Weiss – "What a Wonderful World"
for ryan bennett: the Beatles – "In My Life" (faiz solo w/ukulele)
first dance: Santo and Johnny, et. al – "Sleep Walk" (suite)
group dance: Michael Jackson – "Thriller"
keep dancing: Depeche Mode – "Personal Jesus"
waaaaaaoooow: the Sonics – "Have Love, Will Travel"
~~break~~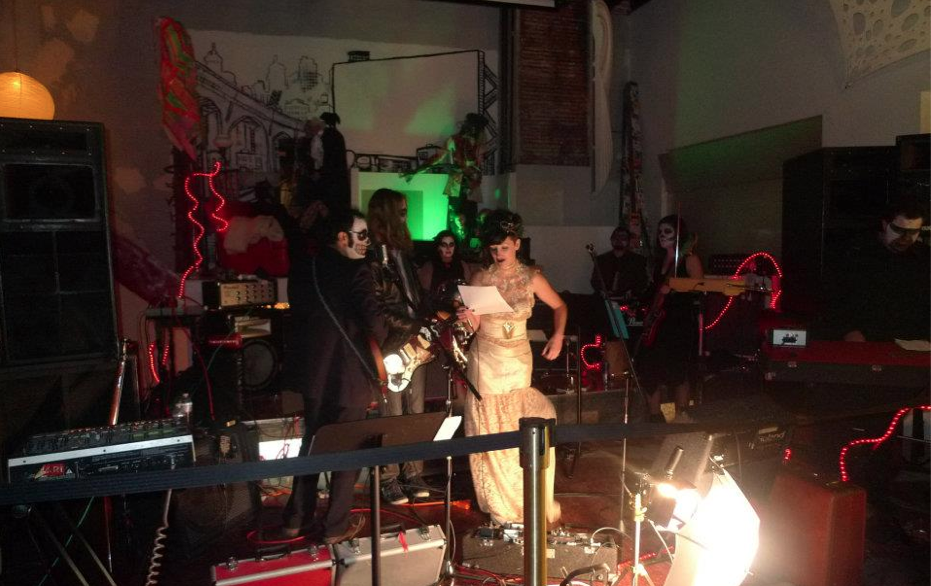 New Standards:
improv 1: "Deck the Corridors"
ex and oh: the Ex – "Theme from 'State of Shock'"/ the Breeders – "Oh!"
monster mash: Bobby 'Boris' Pickett & the Crypt-Kickers – "the Monster Mash"
the spector and the specter: the Ronettes – "Be My Baby" (Renee serenades Ian)
monster mash-up: Gnarls Barkley/Adele – "Crazy/Rollin' in the Deep"
roomdoucher 3: T. Rex – "Ride a Hokey Swan"
redux: Link Wray – "Rumble (Reprise)"
improv 2: "German Automobile"