Jeff Zimmermann Artist Feature
Category
coordination, education, film/tv, fine art
Tags
Excerpt
I'm excited to present to you a short feature documentary we just finished this week featuring the brilliant muralist, Jeff Zimmermann. As a self-taught painter with only a Painting 101 course to his credit, Jeff's murals are an indelible part …
I'm excited to present to you a short feature documentary we just finished this week featuring the brilliant muralist, Jeff Zimmermann.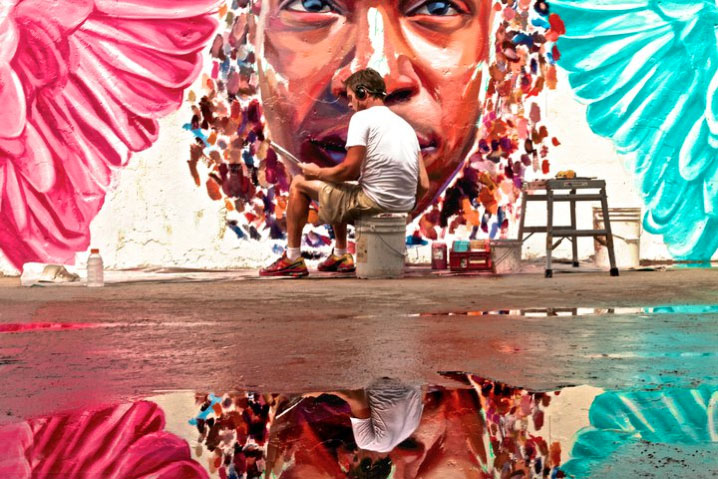 As a self-taught painter with only a Painting 101 course to his credit, Jeff's murals are an indelible part of the landscape in the Pilsen community, among others. His hyper-realistic paintings make the average everyday subjects he chooses literally larger than life. His work spans the various regions of our city and can been seen in Grand Rapids, Charleston, Memphis, and even as far out of the country as South America. Incidentally, Jeff's teaching experience started in Peru, where he worked for three years in poverty-stricken areas as an art educator. He sought to make meaningful artistic connections with children that didn't have much chance.

I'm proud to call him a friend, and was excited to be able to interview the man himself in his soon-to-be-relocated studio in Humboldt Park. The following film is a short version of our forthcoming final feature. It was directed, edited and mixed by the A\V dynamic duo of Reid Garrison Miller and George Joseph Miller IV, who are both students/Alumni of DePaul's CDM as well as former/current staff of CET, respectively. Jared Krenzler and Sally Lawton (also CDM students) operated additional cameras. The sound was captured and produced by James Steyskal.