the PRF
Category
Tags
Excerpt
www.prfbbq.com PRF BBQ 2012 kicks off Thursday June 28th We're only a week away from our eighth four-day music, food and art extravaganza, the PRF BBQ. Our Annual/Semi-Annual celebration of the underground music and art D.I.Y. community that is the …
www.prfbbq.com
PRF BBQ 2012 kicks off Thursday June 28th


We're only a week away from our eighth four-day music, food and art extravaganza, the PRF BBQ.
Our Annual/Semi-Annual celebration of the underground music and art D.I.Y. community that is the
PRF, has really pulled the stops out this year.  As always, it's a non-profit event.
40 some-odd bands over four days at three venues,
this one has been almost nine-months in the works. Gift bags,
the reunions of TAR and -Dis, a charity raffle benefiting the
Cancer-research foundation of our fallen comrade, John Grabski III
featuring such prizes as a handmade aluminum Electrical Guitar, a
private performance by the Hype! and a catered meal from the fine
folks at Kitchen Sink.
To boot, in addition to the food and libations, several culinary-minded
impresarios are creating special for-the-event foods to be sold to benefit
the Grabski III foundation. Hot Doug, Gerard Jean Boissy, Steve Albini,
Tree Voigt and Jeffrey Fox will all be creating custom grillables.
honestly, I could keep going and it still wouldn't cover it. Here, I will note that
I will be playing with Small Awesome on Thursday, Walking Shadow on Saturday
and with noise&light and Tourism on Sunday.
But don't come for me. Come for the whole thing.
TIX:
If you're interested in attending, information on tickets can be found HERE.
Two day passes and Saturday tickets are completely sold out (they went immediately),
but there have been some extras showing up from people who cannot attend here on our facebook page.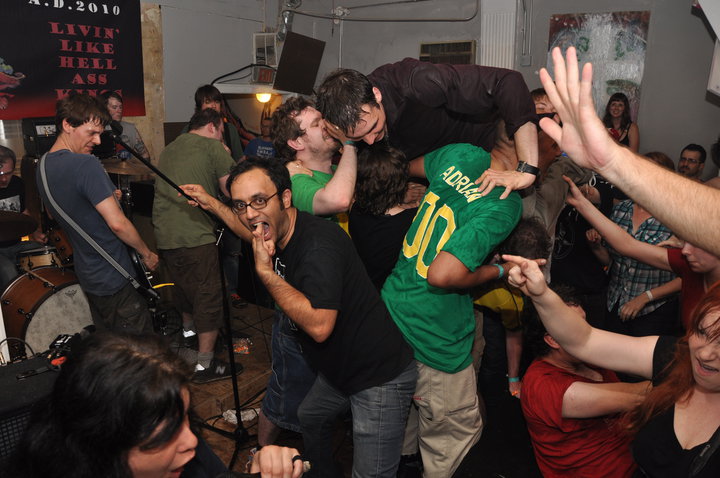 PRF OWS (flyer/simulcast)
PRF Singles Club (bandcamps)
PRF BBQ (Flyers)
Caffeinated Recording (studio broadcasts)
Caffeinated Recording (video channel ~+1000 videos)
Electrical Audio forum
EA one-sheet from portfolio