Farced Exposure
Steve Albini
"interview"
Category
Tags
Excerpt
Happy April, Fools. This seemed like the perfect day to share something with you folks that I hope you'll enjoy. A little back story: I'm in a one-year intensive Masters program at Columbia for Interdisciplinary Arts. It's pretty incredible and …
Happy April, Fools.
This seemed like the perfect day to share something with you folks that I hope you'll enjoy. A little back story: I'm in a one-year intensive Masters program at Columbia for Interdisciplinary Arts. It's pretty incredible and has taken up the bulk of my time for the past 9 months.
This semester we have three integrated core classes in Word, Drama and History. For my history class, run by the diabolical Jeff Abell, we have a group final. We, as a class, first had to decide on a city and decade, and each choose an artist that we will portray that lived in that city at that time. For our individual final grade, we must throw an event to get all these artists together (about 12 of us) and will be interviewed by Jeff Abell in character. Super cool.
For our midterm, I had to write a 1500-3000 word first-person account in the form of my choosing.
Well, our class chose Chicago in the 1980s as our selected decade,
and it pleases me to present to you my midterm: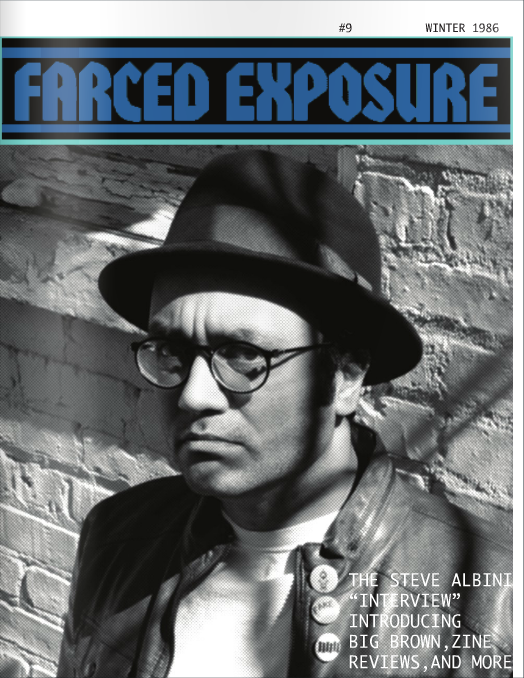 It's a 13-page magazine that can be read online here:
The questions in this "interview" are from the Big
Black feature in Forced Exposure #9 Winter (1986)
by Joey and Byron. I removed Steve's answers before
reading the feature, and answered the interview
myself, as "Steve". I had to do a couple of "peeksies"
to fill in the gaps when I didn't know why a question
had been asked, but otherwise, it's intact.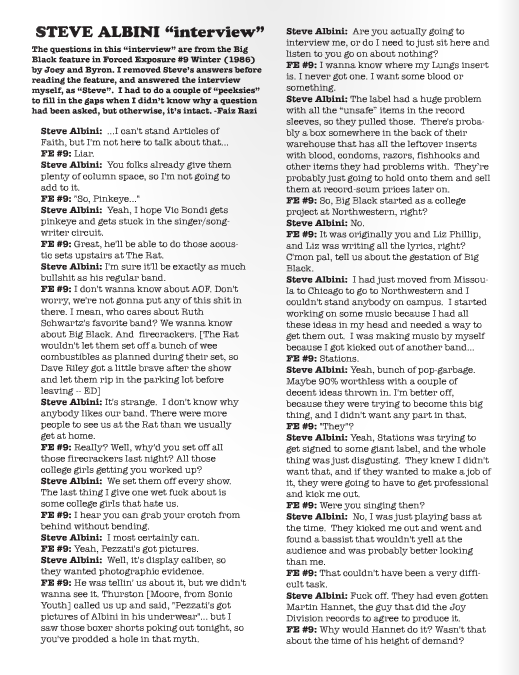 There's a lot more to this particular project, but I'll roll that stuff out when the time is right,
I was able to get a rough copy to Steve yesterday, so he's already aware that I may be crazy. Thanks so much, Steve. Happy Fool's Day.